Gym Flooring Canada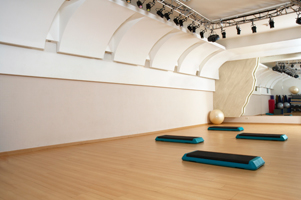 Gym flooring, also known as hardwood floors, has been the main flooring system that secondary schools install within their gymnasiums. They are commonly made out of strips of hardwood that are glued and nailed together. It is also the most expensive flooring that is available to purchase. Gym flooring is preferred by physical education professors for many reasons. The design of a gym floor is such that it has a very specific subfloor that helps absorb the shock of the athlete's movements on it. For the gym flooring to provide proper traction it needs to be kept clean of dust and debris. Another thing that needs to be considered is the footwear that the athletes are wearing to ensure that the gym flooring does not get damaged or scuffed.
The flooring requires maintenance after about two and a half years of athletic use. To maintain the flooring in top condition the entire floor needs to be sanded down, the game lines need to then be reapplied to the surface, and finally the entire surface needs to be refinished. This is commonly done over the summer vacation to ensure the gymnasium gets its maximum use throughout the school year. This will commonly cost around twelve thousand dollars to accomplish. That being said there are many new types of gym flooring that are emerging that could have no major maintenance like this for at least ten to twenty years.
Types of Gym Flooring
In recent years there have been many athletic facilities that have decided to move away from the hardwood flooring and into a vinyl tile floor. The life expectancy of a vinyl tile flooring is about ten to fifteen years. However, it will start to show its age within the first few years with single tiles getting damaged and the replacement tiles never match the rest of the system due to the age difference.
Another drawback of vinyl tiles is the lack of absorption that they provide. This can result in injuries within the athletes that are using the gym flooring. Another big drawback is water spills and high humidity will cause the tiles to lift and require replacement early. Vinyl gym flooring has another major drawback, where it needs to be stripped, sealed and waxed three times a year or more. This means you will get less use out of the gym flooring. This is why it is imperative to ensure you have what you are looking for when you are installing your flooring, and why hardwood flooring is still the main application for secondary school flooring.